What to look for when buying a snowboard
With so many options, buying a snowboard can be overwhelming... so we asked the legends at Burton NZ for their top tips!
Length, camber, shape, graphics... there are so many factors to think about when you're choosing your new snowboard. It can be a big investment, so you want to make sure you get it right! The team at Burton NZ have some awesome tips to make choosing a snowboard a really fun process, check them out below!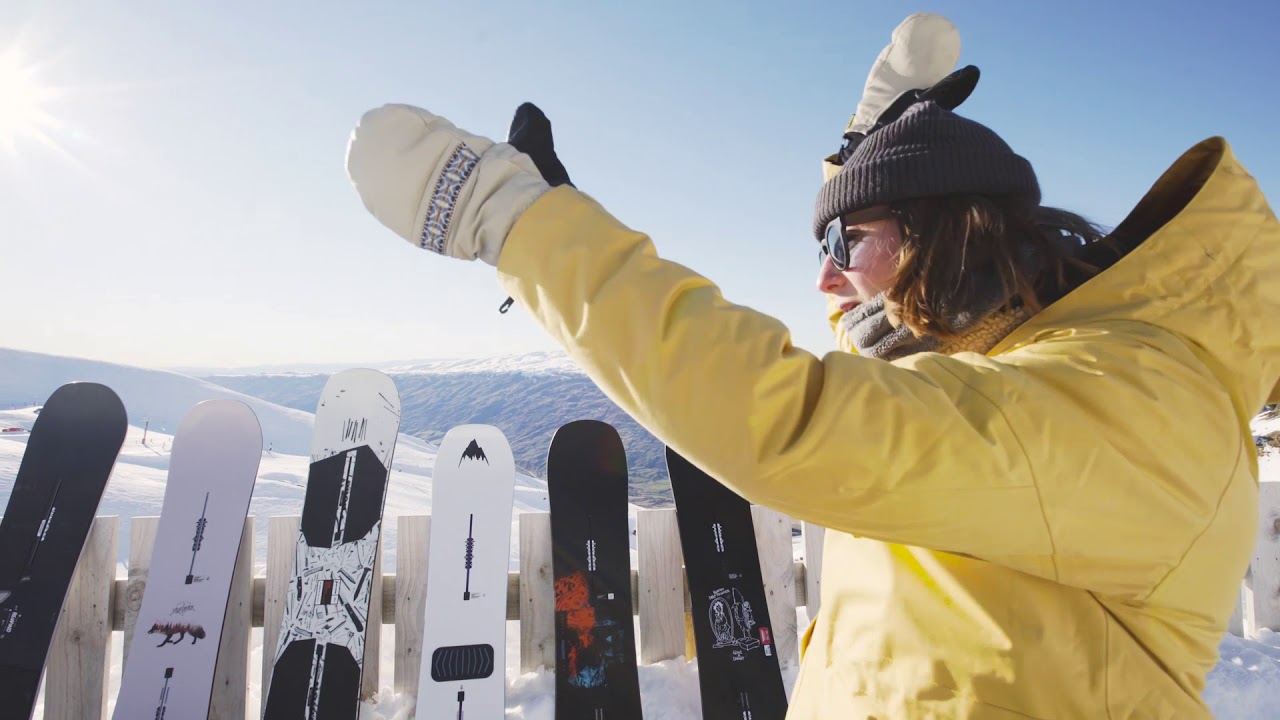 Try before you buy on the mountain
If you're in any doubt, head in & see the on-mountain Cardrona General Store team. They're super knowledgeable about all the Burton snowboards, & can send you out with a demo board to try before you buy! They're often set up out on the slopes at the bottom of McDougall's Chondola (look for the Burton tent) so you can demo a board right on the mountain. They'll even take the price of your demo off the price of your new board from the General Store... now that's a deal!
Think about where you're going to be riding
Your snowboard needs will change depending on if you're still learning to ride, cruising on the groomers, lapping the park, or riding bottomless pow & dropping cliffs. Or maybe you just want to do it all! Where you ride will help you decide on the profile & shape of your snowboard:
If you're riding a lot of switch, you'll need a twin board shape. If switch isn't your thing & you're more about charging, a directional board may be more your style
There are a few different camber options:
Traditional camber is great for pop & edge control – better suited to advanced riders
Flat Top is a bit more playful, especially if presses & butters are your go-to
Pure-Pop is a combination of traditional & Flat Top, for extra pop!
Flying V is a hybrid camber that's a bit more forgiving, an all-rounder great for beginner, intermediate, & freestyle riders 
Buy the board for where you want to be, not where you're at
As we said earlier, buying a board can be a pretty big commitment – for a lot of us we're locked into that board for at least the next couple of years. If you're planning on progressing your snowboarding a lot, and you reckon in a couple of years you'll need something more responsive, lighter & faster under your feet, it might be worth upgrading now. If your comfort zone is your happy place and you're more about cruising the mountain than progression, you might choose instead to get something for a similar level to what you are now – just be aware that once you start pushing yourself, you may need to upgrade sooner than expected!
Get the right snowboard length
Most snowboards should sit somewhere between your collarbone & chin for maneuverability, but a snowboard really only knows how heavy you are (because you're crushing the thing all day)! So for those of us as tall as an Avatar but light as a fairy, your board can obviously sit below your collarbone. On the other hand, if you're the front row prop of the All Blacks & you take protein shakes with every meal, you might be better suited to a longer board. Always ask your friendly shop staff if you're not sure!
Consider the board graphics
Because if you look good, you feel good, & ride even better!
Get out there & snowboard!
The best way to know what you like to ride, is to try boards out! Remember you can suss that on-mountain with the team at the Cardrona General Store – we'll see you out there!